Our volunteers often end up subsidizing the cost of medical visits, food, litter, toys, and neutering of the fostered animals. Your contribution would help to ease the burden.
Our wish list:

blankets, shelters, food supplies, litter boxes, litter, toys, have a heart traps, scratching posts, etc.
P.S. – We are a 501-c3 organization so all monetary donations are tax deductible!
Our hope is to provide the cats and kittens of the Hudson Valley a chance at a happy, safe, healthy life. Email our general email: info@strayhelp.org  or call 845-232-0336 for more information.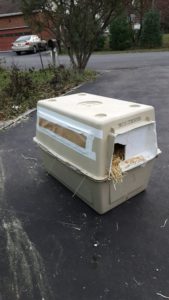 You can help by shopping online with iGive, or using their search engine. It is completely free and only takes a minute to sign up, simply register with them where it says "Join Here". They will donate a percentage of each sale (usually 3%) to our rescue efforts. Using their search engine will donate $0.01 per search!
Use iGive and donate, it's free!